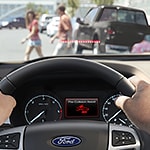 When browsing for a midsize pickup truck, Logan, UT's top choice is the Ford Ranger. There's a variety of reasons our drivers choose the ranger as their preferred vehicle. One of the biggest factors, however, tends to be the different design features, which make the vehicle itself stand out to truck enthusiasts and casual drivers alike.
No matter how you intend to use your Ford Ranger, there's a wheel for you. Whether you're focused on the aesthetic design of your vehicle or the truck's ability to tow, there are multiple wheel designs for you to choose from. From chrome-plated hubcaps to matte black, these tires are made to impress. The sizes and styles come in a range of choices, from 16 inches to 18 inches in multiple design types.
At Wilson Ford Lincoln we understand that the body design of your vehicle is important, too. The Ford Ranger provides customers with a midsize pickup that is both sleek and athletic. It lets you fit in whether you're driving the country backroads or cruising the city. If you're interested in finding out more about the vehicle's design, come take the Ford Ranger for a test drive today.